FANUC Power Supply Repair
FANUC Power Supplies - Nationwide Cleaning & Repair Services
CNC machines require a consistent, uninterrupted power flow to ensure precision operation and maximum production output. Any hiccup in the CNC process hurts the quality of the product and wastes valuable time and resources. Tri Star CNC Services, LLC, provides quick repairs and part exchanges of FANUC power supplies to get your machinery running again. Contact our technicians to learn about your options for nationwide FANUC power supply repairs.
We provide free phone support to help you determine if your CNC power supply is malfunctioning and needs repair. Our technicians have extensive experience repairing and refurbishing FANUC power supplies. We maintain a well-stocked inventory of parts necessary for overhauling these devices, so you won't have to wait long before we return a working part.
We also replace FANUC power supplies and any parts which may be nearing the end of their service life and load test the unit before returning it. We also thoroughly clean all units before sending them back. If you are experiencing any issues with your precision CNC machining and suspect an issue with electronic components, contact us today.
FANUC Power Supplies Repairs & Replacements
We work with a wide variety of power supplies for FANUC-GE and FANUC-CNC machines. If your power supply cannot be repaired, we offer great prices on replacement FANUC power supplies. These are some of the FANUC power supplies we can repair and replace:
FANUC CNC error alarm codes
Power supplies can fail for a number of reasons, and the list of possible problems can be overwhelming to the untrained eye. Even the most detailed explanation in a manual (or in our own list) can be intimidating. If you're having trouble diagnosing or navigating your machine's symptoms, Tri Star CNC provides over-the-phone guidance from experts to help you through it.
---
We make used power supplies like new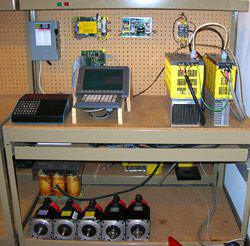 The power module cleaning and repair process involves meticulous care and strict attention to detail. We'll take every step necessary to ensure your FANUC power supply module is entirely clean and functional.
CNC repair technicians at Tri Star clean and bake parts to remove all contaminants. We'll test power modules on a closed loop system to isolate and identify the source of the problem and perform swift repairs in-house at our facility in McHenry, Illinois. Upon repairing the power supply, we execute more testing to make sure it's working at 100% efficiency before returning it to you.
FANUC Power Supply Module Alarm Codes
When FANUC PSU's start throwing error alarm codes you need a solution. Fast. Combing through ancient equipment manuals or translating highly technical language delays your production and threatens your bottom line.
FANUC technicians at Tri Star CNC Services are well-versed in the documentation of alarm codes and have years of experience servicing this type of equipment. We know what's going on with your CNC robots and components and what must be done to get production cranking.
We offer free over-the-phone support to see if the problem can be solved on site or if repairs or replacement is needed. See all FANUC power supply error codes.
1 IMPECCABLE SERVICE 2 QUICK TURNAROUND 3 FLAWLESS PERFORMANCE
Preventive Maintenance Potentially Prevents Further Malfunctioning
Tri Star CNC goes above and beyond simple repairs. We've got the tools at our disposal to fully clean out component-level parts quickly to prevent further issues. Regular machine maintenance reduces the chances of future problems.
Examples of preventive maintenance of FANUC power modules include:
Cleaning and replacing fans
Removing dust and buildup from heat sinks
Inspection of pin connections
Ensure integrity of cold solder joints
Checking components known to have short work lives
Replacement FANUC Power Supplies from our Exchange Stock
Of course, if your power module is beyond repair, we provide you with a brand new replacement power supply. We carry a wide variety of Alpha series FANUC power modules. Order from our exchange stock—we'll give you a fair credit for your non-working FANUC power module and send you a working refurbished part.
WE SERVICE LOCATIONS ACROSS THE UNITED STATES: