Free FANUC Technical Phone Support
Tri Star CNC Services is dedicated to minimizing your costs, so let us help you diagnose and possibly repair your malfunctioning CNC machines with instructions over the phone. Our expert technicians offer FREE phone support to help you troubleshoot an issue with your FANUC component or CNC machine. Call 815-578-9145 now for assistance.
When you call Tri Star CNC Services in McHenry, Illinois, you'll connect with an experienced FANUC technician with many years of experience servicing the following:
Servicing intricate FANUC component level parts requires an intimate understanding of the function of every part involved. If you're in a situation where your part absolutely needs to be repaired, ship it over to our location in McHenry, Illinois to let our experts identify the source of the problem, fix it, and send it back with minimal downtime.
FANUC CNC error alarm codes
CNC part failures can occur for a number of reasons that can be hard to determine for someone with no experience with internal CNC machine components. Even the most detailed explanation in a manual (or in our own list) can be intimidating. If you're having trouble diagnosing or navigating your machine's symptoms, Tri Star CNC provides over-the-phone guidance from experts to help you through it.
Call 815-578-9145 for assistance with your specific alarm code.
---
Signs Your CNC Machine Needs Servicing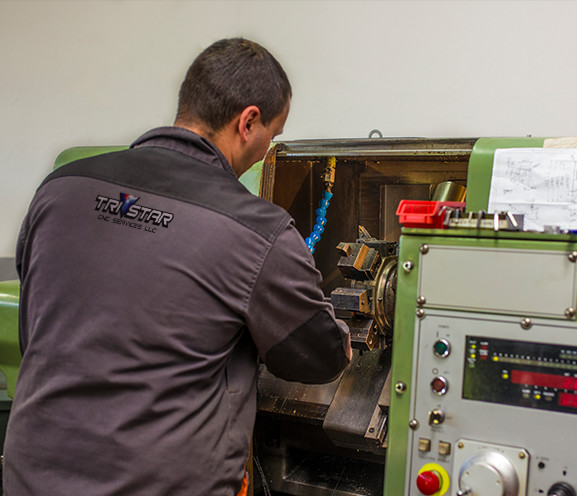 There are a few tell-tale signs your CNC machine is in disrepair and demands your immediate attention. Look for the following:
Failure of detection circuits
Blown fuses
Malfunctioning HC and OVC alarms
Erratic operation and vibration
Feedback failure
No rotation
If you identify any abnormal activity, don't hesitate to call Tri Star CNC Services. Rest assured you won't be charged a cent for a simple over-the-phone consultation. Instantly contacting a Tri Star representative means identifying the problem as soon as possible and putting yourself in the best position to get it fixed in the least amount of time for the lowest cost.
WE SERVICE LOCATIONS ACROSS THE UNITED STATES:
Sometimes over-the-phone troubleshooting isn't enough. If you need a part repaired, we have service providers across the United States to bring repairs closer to you. Our FANUC field service network lets us organize your repairs remotely. Find out which location is closest to your location to minimize turnaround times on work.
Call us at 815-578-9145 to speak with an experienced, knowledgeable FANUC repair specialist.