FANUC Spindle Drive & Amplifier Repair Services
FANUC Spindle Amplifier Repairs
When it comes to CNC machining, we understand that 100% precision is required in all situations. If a spindle amplifier fails to remain perfectly consistent in its speed or torque, Tri Star CNC Services provides quick and affordable repair on spindle amp component-level parts. Get in touch with us by submitting a form or over the phone for free phone support.
Our part exchange service allows you to keep your machine running while we repair your broken part. Simply send us your broken parts and we'll send working replacements for you to use until we finish the repairs. We maintain a well-stocked inventory so you won't have to wait long before we return a working part. We also replace parts that are near the end of their service life and load test the unit before returning it. All units are thoroughly cleaned before being sent back.
If you are experiencing any issues with your precision CNC machining and suspect an issue with electronic components, contact us today. We provide free phone support to help you determine if your Servo drive is malfunctioning and needs repair. Our technicians have extensive experience repairing and refurbishing FANUC spindle amplifiers. We also replace FANUC spindle drives when parts are nearing the end of their lifecycle.
When you call us for support, we walk you through the repair process for any FANUC machine free of charge. If your parts are in need of repair, we will walk you through the steps of our parts exchange service to get you a working replacement part or an on-site technician as soon as possible.
FANUC Spindle Amplifier Repair & Exchange Service
If your spindle drive/amp is faulty beyond repair we can provide excellent prices on refurbished parts from our exchange stock. Contact us for availability for spindle amplifier replacements or type in the part number in the search bar below to find it online. We keep stock of these parts and more in our inventory ready to go.
Search spindle amps:
FANUC spindle amplifier error alarm codes
Spindle amplifier failure can occur for a number of reasons completely foreign to someone on the floor with no experience with internal electronic CNC machine components. Even the most detailed explanation in a manual (or in our own list) can be intimidating. If you're having trouble diagnosing or navigating your machine's symptoms, Tri Star CNC provides over-the-phone guidance from experts to help you through it.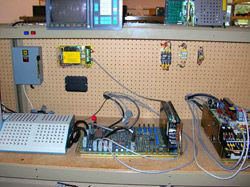 Symptoms of a malfunctioning spindle amplifier
When maintained, the control, drive and motor of a spindle amp should work together with precision and accuracy. When they fail, FANUC's spindle drives frequently exhibit these errors, among others:
Erratic operation
No rotation
Feedback failure
Abnormal DC link alarms
Spindle Amplifier Operation
A spindle drive controls the high-speed, compact AC motors commonly used in machine tool spindle drive applications. Since maintaining consistent speed and torque is essential to accuracy and finish quality, these devices use digital signal processors to constantly monitor and adjust speed, torque and current to minimize variations in speed and torque during use.
Contact Tri Star CNC Services for a quote on repairs or availability from our exchange stock.
WE SERVICE LOCATIONS ACROSS THE UNITED STATES: