A06B-6047-H002 VELOCITY CONTROL UNIT (0M,5M)
FANUC parts >> A06B-6047-H002 VELOCITY CONTROL UNIT (0M,5M)
Part Name:
VELOCITY CONTROL UNIT (0M,5M)
Part Number:
A06B-6047-H002
Exchange Price
$1,570
Non return of a repairable exchange part within 15 days will result in an additional invoice for the above exchange price.
Repair Price
$1,218
Please contact Tri Star CNC Services to place an order.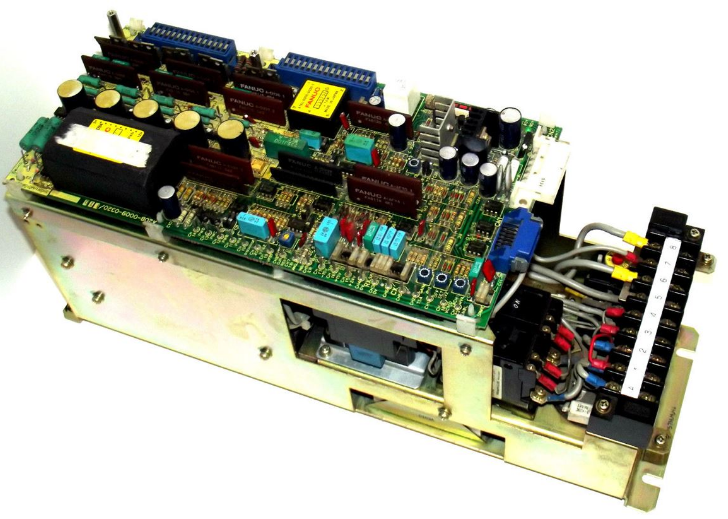 VELOCITY CONTROL UNIT (0M,5M) A06B-6047-H002 Module Repair & Parts Exchange
A06B-6047-H002 is a velocity control unit (VCU) offered by Tri Star CNC Services for sale online. VCUs protect against a CNC's velocity exceeding limitations, and are used for mills and lathes. The intuitively organized and clearly labeled circuit board makes assimilation into your CNC machine a breeze. A well-built chassis guards the circuitry from outside harm, promoting consistent performance.
A06B-6047-H002 can be installed on many inspection tools as an insurance policy against velocity-related malfunction. In the unlikely event the A06B-6047-H002 velocity control unit fails, send it to Tri Star CNC Services, LLC and our FANUC engineers will repair it as fast as possible and send it back. If we are unable to repair it, we'll send you a replacement part from our exchange stock if we've got it. FANUC machine parts are interchangeable.
For help resolving an issue with your A06B-6047-H002 Velocity Control Unit, give us a call for free phone support. Our technicians are standing by to walk you through machine repairs at no cost. If you need professional repairs for your FANUC CNC parts, we'll walk you through the send-in process to minimize downtime. Call us today for free phone support for your FANUC machine.
Get repairs for your A06B-6047-H002 Velocity Control Unit by sending your parts to Tri Star CNC. We always thoroughly inspect, repair and clean your parts before sending them back. To get started, fill out an RMA form and send it along with a contact form. You only pay for the necessary services we perform, so if you part only needed to be cleaned to continue functioning, you'll only be charged for that service. We'll also replace your A06B-6047-H002 Velocity Control Unit when it has reached the end of its lifecycle.
We repair many other FANUC parts as well. View our full list of services:

Our send-in repair services are available for all locations within the U.S. Consult our field service map to see whether on-site maintenance for your A06B-6047-H002 Velocity Control Unit is available.
Our extensive list of alarm codes should give you a good starting point on diagnosing your FANUC parts errors. We're happy to walk you through more in-depth processes over the phone and can get you started on the send-in repair process if necessary.
We provide alarm codes for other FANUC parts. View our full list of alarm codes:
ALARMS & ERROR CODES
When a FANUC DC servo alarm is thrown chances are you'll need support from professionals experienced in FANUC component repairs. Give us a call - phone support is FREE and we'll clearly define your options for parts repair or replacement:
| Alarm | Description |
| --- | --- |
| BRK | Breaker has tripped. |
| HVAL L/M | DC voltage of the power circuit for that axis is high. |
| HCAL L/M | High current flow of the main circuit of that axis has occurred. |
| OVC L/M | Current exceeding the preset value has continued longer than normal. |
| LVAL | The circuit voltage is unusually low. |
| TGLS L/M | Feedback and velocity command mismatch. |
| DCAL | The regenerative discharge circuit may be faulty. |
Whether your original part is repaired or replaced, it will work with your CNC machine. With Tri Star CNC Services, LLC control repairs, the downtime of your FANUC will be minimized. Raise your company's productivity by adding the H002 velocity control unit to your FANUC CNC machine.
Parts & Repair Warranty Information
Exchange parts and repaired parts include a 1-year warranty. Tri Star CNC, LLC warrants the COMPLETE ASSEMBLY REPAIR – not just the parts and labor.