A02B-0166-B001 Power Mate D
FANUC parts >> A02B-0166-B001 Power Mate D
Part Name:
Power Mate D
Part Number:
A02B-0166-B001
Exchange Price
Call for Price
Non return of a repairable exchange part within 15 days will result in an additional invoice for the above exchange price.
Repair Price
$900
Please contact Tri Star CNC Services to place an order.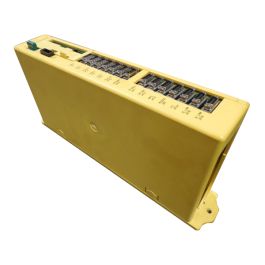 FANUC A02B-0166-B001 Power Mate D Repair & Parts Exchange
Tri Star offers replacement services for Power Mate D parts. Contact us to order today.
If you're having trouble with your A02B-0166-B001 Power Mate D, we offer free support over the phone. Our experienced technicians can walk you through the steps of repairing your CNC machine without costing you a dime. If your parts require repair, we'll help you through the process of sending it in so you won't have to wait long to continue your operation. Call us today for free phone support on your FANUC machine.
Our team of expert technicians will get to the bottom of your malfunctioning FANUC power supply. We repair and clean all incoming parts to a like-new condition. Simply fill out an RMA form and send it along with a contact form and we'll get started right away on repairing your parts.
We also repair other FANUC parts. View our full list of services:
Browse through our list of alarm codes to find out what the error on your machine means. We've detailed the major possible reasons for each alarm code to help you fix your machine on your own or help us fix it for you faster. If you're unable to resolve the issue on your own, give us a call and we'll walk you through the next steps in repairing your FANUC machine.
We provide alarm codes for other FANUC parts. View our full list of alarm codes:
Our send-in repair services are available to anyone throughout the U.S. If you need on-site repairs, check out our field service network to see which states are within our reach.
Parts & Repair Warranty Information
Exchange parts and repaired parts include a 1-year warranty. Tri Star CNC, LLC warrants the COMPLETE ASSEMBLY REPAIR – not just the parts and labor.