How Do CNC Machines Work?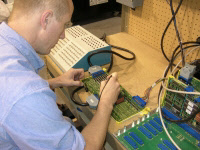 Functionality of CNC Machines
CNC machines rely on several different components to function as a cohesive unit. This advanced machinery uses many automated processes to produce long runs of precision metal components.
What does CNC stand for?
CNC stands for
Computer Numerically Controlled
.
This refers to how the computer (instead of people) controls the machines as it manufactures complex parts repeatedly. In layman's terms, it means these machines are run by programming a computer, instead of needing someone to stand there and do it by hand. There are several types of machines that employ the CNC modification:
Lathes
Milling Machines
Grinding wheels
Drills
These machines are exceptionally quick and churn out parts at a startlingly swift pace. This automation process has helped companies increase their production times exponentially. The CNC machines utilize CAD data (Computer Aided Design) to move seamlessly from the design process into the production process.
CNC Machine Parts
CNC machines are highly complex, and rely on several interlinking robotic parts to communicate effectively in order to create the highest quality components in the least amount of time. Tri Star CNC Services offers the following FANUC and GE FANUC CNC machine parts for sale online:
Power supplies
CRT monitors (cathode ray tube)
Control units
Tri Star CNC Services has over 90 years of collective experience servicing complex CNC systems. When you're in need of highly specialized CNC machine parts, browse our full inventory. We carry a huge variety of all the parts listed above. Tri Star CNC Services is your partner for all things CNC.
CNC Machine Controllers
CNC machines have three types of common controllers. Desktop controllers are used from a remote location – a different room or office than the machine. Pendant controllers hang from an arm attached to the machine, and pedestal controllers will sit on top of an arm attached to the machine.
CNC Machine Software
CNC machines also make use of one of four different types of software:
Manual G Code Programming is normally found on larger, commercial machines. It is used for simple machine processes.
Offline CAM Programming is also found on larger machines, but is more difficult for operators to learn. However, offline programming can be a very worthwhile investment of time.
Conversational Programming is an easy to learn program, making simple and complex parts easier to manufacture.
Windows Based Programming is exactly what it sounds like – a Microsoft Windows based program that can understand imported CAM and CAD data, and is easier for operators to understand.
CNC Repair Services
When your CNC machine breaks down, don't despair. At Tri Star CNC Services, we understand the importance of keeping these important CNC machines up and running. We will get you a replacement part right away while we test and repair your old, broken CNC part. FANUC repair specialists take your malfunctioning part to our headquarters in McHenry, Illinois and test it on a closed loop. Once we've diagnosed the problem, we fix it and get your machinery back up and running in no time.
Tri Star CNC Services strives to limit downtime and keep production moving. You can trust us to repair your CNC machinery as quickly as possible when you can't afford to settle for anything less.
Contact CNC machining professionals at Tri Star CNC Services LLC today and we'll repair your FANUC or GE FANUC parts instead of having to replace them!